How To Repair Your Credit After Bankruptcy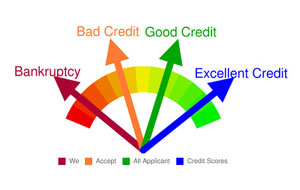 For many people in financial trouble, declaring bankruptcy means a fresh start. Unfortunately, it takes time and good financial planning to ensure your credit score gets back on track. But bankruptcy doesn't have to mean years of struggling to rebuild your credit. The financial crisis caused a spike in bankruptcies, leaving thousands of Americans to rebuild their credit even as the financial outlook improves. These tips can help you take the right steps after bankruptcy to establish a bright future of good credit.
Evaluate where you are: Knowing your credit reality is critical post-bankruptcy. Pull a copy of your credit report each quarter, and correct any inconsistencies. It may also be a good idea to request an in-depth analysis of your credit from a credit counselor or other professional to help you really understand where you stand.
Pay your bills on time: According to MSN Money, 35 percent of your credit report is based on payment history. Sometimes, even being one day late on a payment can ding your credit, especially if there is no grace period. MSN Money expert Britt Klontz suggests signing up for electronic payment services offered by most banks to avoid missing a payment.
Build a budget: Repairing your credit is a tough process, so it's important to avoid repeating past mistakes. Thoroughly analyze your finances, and set a budget. You may need to cut spending in a few areas to make room for paying bills. Don't forget to set aside money for entertainment, even if it's just a small amount. Boredom may cause you to blow your budget.
Tentatively apply for credit: You'll still want to have access to some credit, especially for emergencies. Secured credit cards are available to most people with less-than-perfect credit, but most require a deposit and offer low limits. On-time payments are reported to credit agencies, so these cards are good for people who are just rebuilding their credit. Don't apply for too many cards and loans, though. This activity could have a negative impact on your credit report.
Stay positive and be patient: Rebuilding your credit will take time, as a bankruptcy can stay on your credit report for up to 10 years. It's important to be patient and stay focused on the ultimate goal. Don't max out your credit cards, and don't get in a place where you're stretched too thin. Maintain credit for emergencies, and try to pay mostly in cash. It may take time to get back to financial stability, but it can be done with a little hard work. Declaring bankruptcy isn't an ideal situation, but it can help people who are unable to pay their debts get back on track. Your credit score will eventually rebound, and these tactics can help you ensure you're always moving forward.
LOOKING TO BEGIN?
---
SPEAK WITH A CREDIT NAVIGATOR TODAY
Call now for free expert advice: 844-844-0701