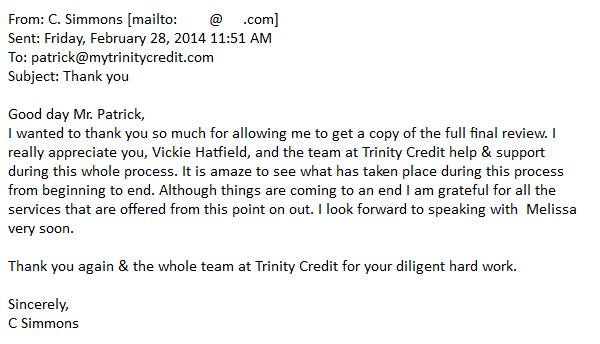 Good day Mr. Patrick, I wanted to thank you so much for allowing me to get a copy of the full final review. I really appreciate you, Vickie Hatfield, and the team at Trinity Credit help & support during this whole process. It is amaze to see what has taken place during this process from beginning to end. Although things are coming to an end I am grateful for all the services that are offered from this point on out. I look forward to speaking with Melissa very soon.
Thank you again & the whole team at Trinity Credit for your diligent hard work.
Sincerely, C Simmons
C. Simmons | Annapolis, MD
LOOKING TO BEGIN?
---
SPEAK WITH A CREDIT NAVIGATOR TODAY
Call now for free expert advice: 1-866-820-2176