Your path to better credit starts here
---
EXPERT CREDIT REPAIR
& LOAN APPROVAL

Absolutely Free Credit Consultation
GET PERSONALIZED CREDIT HELP FROM
THE INDUSTRY LEADERS IN CREDIT REPAIR & LOAN APPROVAL
1. FREE CREDIT
CONSULTATION
DO YOU HAVE ITEMS LIKE THESE?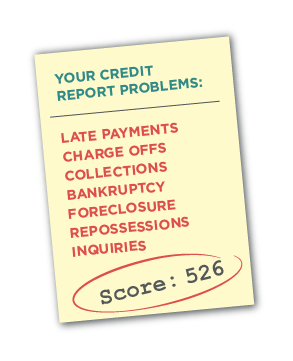 If your credit report contains any of the above you are likely experiencing denials, higher interest rates, and possible trouble obtaining clearance for employment.
2. CREDIT
RESTORATION
DON'T KNOW WHERE TO START?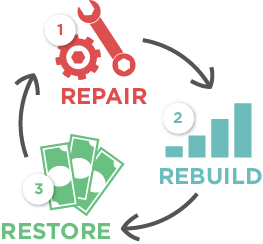 Cleaning up your past begins with us leveraging your consumer rights to engage the credit bureaus and creditors to remove the inaccurate items from your credit report.
100% No Results, No Charge Guarantee
Proven Permanent Results
Registered & Bonded
Strict Security
Expert Credit Education Included
9+ Years in Business
HEAR OUR STORY
At Trinity Credit Services, we believe that life is easier with excellent credit. We have a dedicated staff able to assist with your future financial needs. We can provide advice, and information on how best to manage your current credit to maximize the impact to your qualifying ability.
OUR PROCESS
These are the steps that will help guide you through the process of
credit restoration.

FREE CREDIT REPORT EVALUATION
Your credit consultant will look at your TransUnion, Experian and Equifax credit reports and go over them with you line by line. If you don't have your current reports we can pull them instantly for you.

CUSTOMIZED CREDIT
REPAIR PLAN
Once you decide to proceed with our program, your navigator will establish a path to get your inaccurate items removed from your credit reports in accordance with the FCRA, HIPAA, FCBA and other consumer laws.

SEND US ANY
CORRESPONDENCE
You will begin to receive correspondence from credit reporting agencies within the first 30-45 days. Simply send any correspondence to us using the labels we provide to you in your credit survival guide.

VIEW YOUR
PROGRESS ONLINE
You can monitor our efforts and success on our website. You will be provided a client login and pin code. You will also have access to our credit education programs and webinars.
Let's Get Started
These articles can help you steer through the forest of credit restoration. Get the latest news and trends in the ever-changing world of credit repair.
if((isset($_GET['page']))&&($_GET['page'] != "index")){}else{highlight("",4);}?>