MR. NC Thanks Trinity Credit Services
Not only am I grateful to your company and its staff but I feel your agency is the best at what they do. My special thanks to those who worked on all the letters sent to all the agencies banks and credit companies. Thank you, thank you, thank you.

Paul Recommends Trinity Credit Services For Business Owners
Trinity has done an outstanding job for me and I will definitely recommend Trinity to others. My wife Terry contracted with another credit service company and has not seen the results I have had with Trinity and she paid a lot more.

Sgt. RJ Credit Ratings Continue To Increase
I felt so much more in control of my money with a credit rating that is still going up. You and Trinity Credit Services are really a successful business.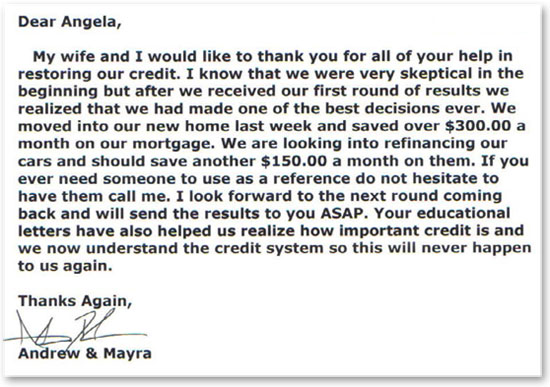 Andrew & Mayra on Helping with Credit Restoration
I know that we were very skeptical in the beginning but after we received our first round of results we realized that we had made one of the best decisions ever. WE moved into our new home last week and saved or $300.00 a month on our mortgage.
Testimonial from Aly on Mortgage Approval
I just wanted to take a minute and thank you for all of your help. I found out this morning that I am approved for my mortgage and I don't have to put all that money down now.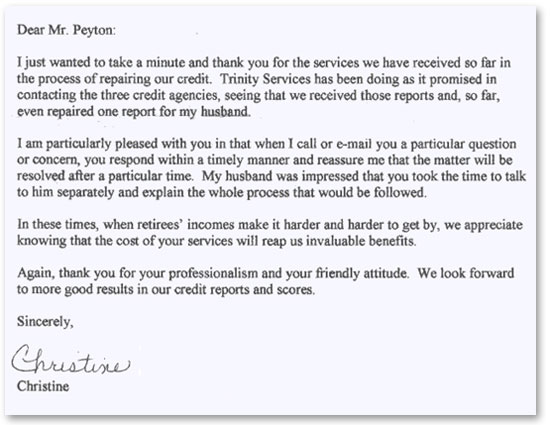 Testimonial from Christine on Trinity Credit Services
In these time, when retirees' incomes make it harder and harder to get by, we appreciate knowing that the cost of your services will reap us invaluable benefits. Again, thank you for your professionalism and your friendly attitude.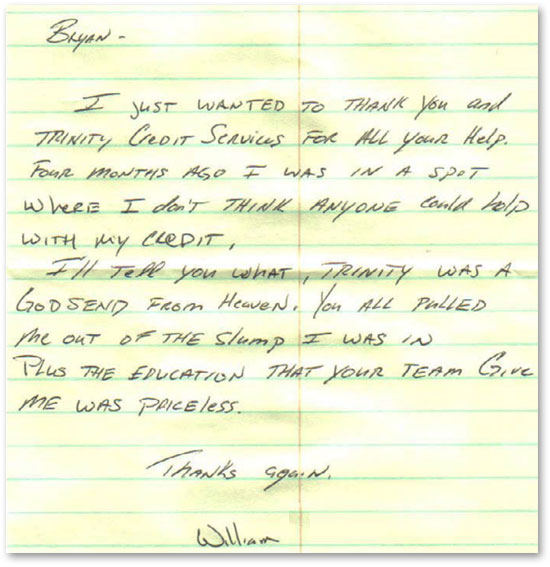 Testimonial From William Thanking Trinity Credit Services
Four months ago I was in a spot where I don't think anyone could help with my credit. I'll tell you what, Trinity was a Godsend from Heaven.

Testimonial from Rohn P. About Credit Score Increase
My credit score has gone up significantly, I even feel like I will be able to buy a home by years end. I will definitely recommend your company to others. The money it cost me was well worth it.

J.S.L. Receives Positive Response in Credit Scores
We are receiving a positive response in our credit scores already, this a great feeling. I think you all may need some flowers by the time our process is complete.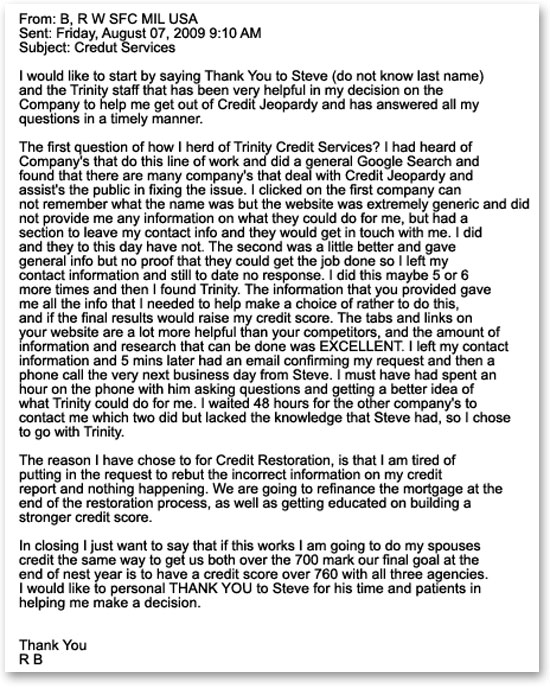 RB Mobile, AL
The information that you provided gave me all the info that I Needed to help make a choice of rather to do this, and if the final results would raise my credit score. The tabs and links on your website are a lot more helpful than your competitors, an